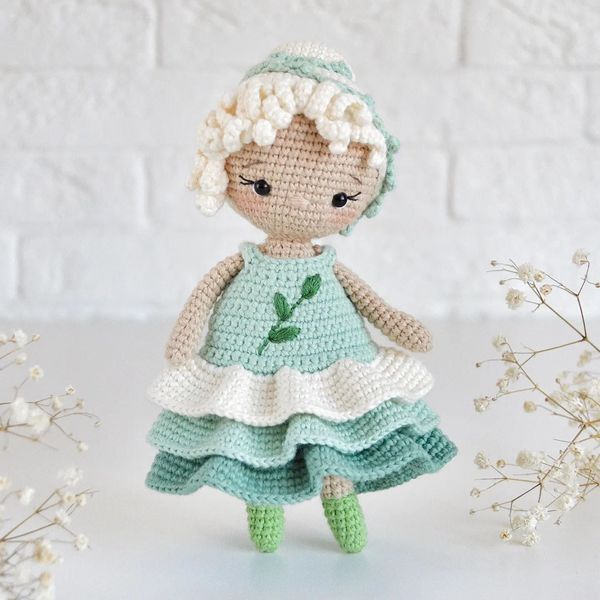 Sweet Doll Amigurumi Free Crochet Pattern
Hello amigurumi lovers and beautiful visitors, I wanted to share the free amigurumi patterns for you here. In my article I will share 1 pattern and how to make it for you. At the end of my article, I will share amigurumi patterns that can generate ideas for you.
A LIST OF MATERIALS
1.TEN ALİZE DİVA NO: 382
2.ETEK ALİZE DIVA NO: 36
3. SOCKS ALIZE DIVA NO: 60
4.BUSTIYER ALİZE DIVA NO: 55
5.YELEK ALIZE DIVA NO: 355
6.SAC FIBER ROPE COLOR CARAMEL
EYE: 6MM
STOCKINGS
We start with black
1.into magic ring 6sc
2.4: 12 sc
5.1 DEC 4sc 1 DEC 4sc: 10
6.10: 10sc
11: 3sc 1inc6sc: 11sc
12: 11sc
13: 4sc1inc 1sc1inc 4sc: 13sc
14: 13sc
15: 5sc1inc 2sc15 4sc: 15sc
16: 15sc
17: 8sc1inc 6sc: 16sc
18: 16SC
19: 22: 16SC
23: 7sc1 DEC 2sc1 DEC 3sc: 14sc
24: 14sc
25: 6sc1 DEC 1sc1 DEC 3sc: 12SC
26: 1sc3hdcinc 8sc: 15
27: 1sc 3scDEC 8sc: 12sc
28: 8sc 1inc 3sc: 13sc
29: 8sc1inc 1sc1inc 2sc: 15sc
30: 15sc
31: 9sc1inc 2sc 1inc2sc: 17sc
32: 17sc
33: 11sc1inc 5sc: 18sc
34: 18SC
35: We do 2 sl-st 2 ch on the same place 1dc 2ch over DC 3sc 4sl-st 1dc 2 ch DC over 3sc we do SL-ST the whole sequence. it's done
Let's switch to color from 36. We take 1 loops behind the ears and continue with 18 sc.
37:46: 18sc
47: let's switch to underwear color 2sc from top of 18sc Ch 18sc to same place 1sc from top of ch 2sc to same place 1sc: 42sc
48: 18sc 1sc 1inc 18sc 1sc 1inc: 44sc increments we make between legs to coincide with the middle of Ch
49: increment 1 each from the sides: 46
50:53: 46sc
54, in the meantime, we are reducing 4sc from front and rear leg alignment: 42sc
We continue with 55 skin colors: 42sc
56: 5sc1 DEC 6 *: 36sc
57: 36sc
58: we are reducing 4sc from front and rear leg alignment: 32sc
59: 64.32sc
Chapter 2
65: let's switch to white color: 32sc
66: Blo whole row we only make front increments 1inc3sc 1inc3sc1inc3sc 1inc3sc 1inc 18 sc: 36sc
67: 69: 36sc
70: we decrease the places where it increased from the front 1 DEC3sc 1 DEC3SC 1 DEC3sc 1 DEC 18sc32sc
71: We continue with the skin color and in the meantime, let's join our 3sc arms from the sides, we do
not make Blo while we are only joining the arms, the other coins will be knitted as Blo: 32sc 5sc from 72.13sc arm to 5sc from 13sc sleeve
73.1 DEC4sc 1410sc 144sc 1410sc: 32sc
74: 1 DEC1sc 1 DEC1sc 1 DEC7sc 1 DEC1sc 1 DEC1sc 1 DEC7sc: 24sc
75: 2sc1 DEC 6 *: 18sc
76: 1 DEC3sc 1 DEC3sc 1 DEC3sc: 14sc
77: 1 DEC5sc 1 DEC5sc: 12sc
78: 1 DEC 4sc 1 dec 4sc: 10sc
79: 83: 10sc
84: all row inc: 20sc
85: 3sc to end of 1st row
86:25 sc
87: Blo 25sc
88: meanwhile we place our button and reduce it to lock the button inside
ARMS
1: into magic ring 5sc
2.3: 10sc
4: popcorn 9sc: 10sc
5: 10sc
6: 3sc1 DEC 3sc1 DEC: 8sc
7.26: 8sc
HEAD
1.into magic ring 6sc
2.12sc
3.1sc1inc 6 *: 18sc
4.2sc1inc 6 *: 24sc
5.3sc1inc 6: 30sc
6.4sc1inc 6: 36sc
7.5sc1inc 6 * 42sc
8.6sc1inc 6 *: 48sc
9.7sc1inc 6 *: 54sc
10.21.54sc
22.7sc1 DEC6 *: 48sc
23.3sc1 DEC 6sc1 DEC 5 * 3sc: 42sc
24.5sc1 DEC 6 *: 36sc
25.2sc1 DEC 4sc1 DEC 5 * 2sc: 24sc
26.3sc1 DEC 6 * 18sc
27.2sc1 DEC * 6: 12SC
28 5sc1 DEC 5sc1 DEC: 10sc
Eyes: It is worn by leaving 9sc between the 16th and 17th rows. In the 25th row, let's place our head on our neck and continue.
TOUPEE
1.into magic ring 6
2.blo 12sc
3.1sc1inc 6 *: 18sc
4.2sc1inc 6 * 24sc
5.blo 3sc1inc 6 *: 30sc
6.4sc1inc 6 *: 36sc
7.blo 5sc1inc6 *: 42sc
8.6sc1inc 6 *: 48sc
9.blo7sc1inc 6 *: 54sc
10.54sc
11.blo 54sc
12.54sc
13.blo54sc
BOTS
Jump 1ch over 1.7ch 5sc to the same place 3sc ch 4sc by other make 2sc SL-ST to the same place: 14sc
2.1ch 1inc4sc 3inc4sc 2inc sl-st: 20sc
3.1ch 1sc1inc 5sc1inc1sc1inc1sc1inc5sc1inc1sc1inc sl-st: 26SC
4.blo26sc
5.6.26sc
7.6sc 6DEC 8sc sl-st: 20sc
8.5sc1 DEC 1sc1 DEC 1sc1 DEC 7sc sl-st: 17sc
9.7sc1atla 9sc sl-st: 16sc
10.12.16sc. Done We make SL-ST the place with the cove blue rope and our boat is ready.
VEST
1.40ch
2.1ch skip 39sc
3.6. 39sc
7.5dc 4 Ch 4sc skip 21dc 4 Ch 4 sc skip 5dc: 35 DC
8.2ch check turn 5sc over 1inc Ch 4sc 1inc 21sc 1inc over Ch 4sc 1inc 5sc: 47 sc
9.8sc 1inc 26sc 1 inc 8sc: 49sc
10.23.49sc We finish around the vest by making SL-ST
SKIRT
1.19 Ch
2.1ch skip 18sc
3.1ch check turn Blo 18sc
4.1chcek turn Blo 18 SC Until the 60th row, we join and sew the Blo Skirt edges 1 cm. We will make 32 hdc by making hdc around the waist of the skirt in the whole row. We pull 8 Ch and turn and make 32 hdc and sew the button.
Let's pull 40 Ch for the skirt hanger Let's pull a Ch and turn 33 sc over Ch Let's pull 34 Ch and skip 1ch and turn 33 sc.
BAG RECIPE
1.12 Ch
10sc over the 2nd chain to the same place 3sc Ch other by 9sc 1INC SL-ST: 24sc
3.1inc 9sc 3inc 9sc 2inc SL-ST: 30sc
4. Let's put our Tig from front to back and put it forward and knit again once in a while 2ch 30 hdc SL-ST
5.10 30 hdc
11. 1ch check flo turn 13sc
12.1ch check turn 13sc
13.1ch check turn 13sc
14.1ch check turn 13sc
15.1ch check turn 13sc
16.1ch check turn 13sc
Let's fix our black rope to 17.4.flo
We fix our 9 Ch check ring and turn
We fix and turn our 5SL-ST 9 Ch ring from 8sc flo through Ch
Let's take our 8sc rope over Ch to the inside of our bag, fix it and cut it.
18. Let's take the loop and fix it as we do the reduction from the side of our bag. Let's pull 70 Ch and fix it on the side of our bag. Let's cut and fix our rope on the whole Ch. Let's cut and fix our rope.
Enjoy!