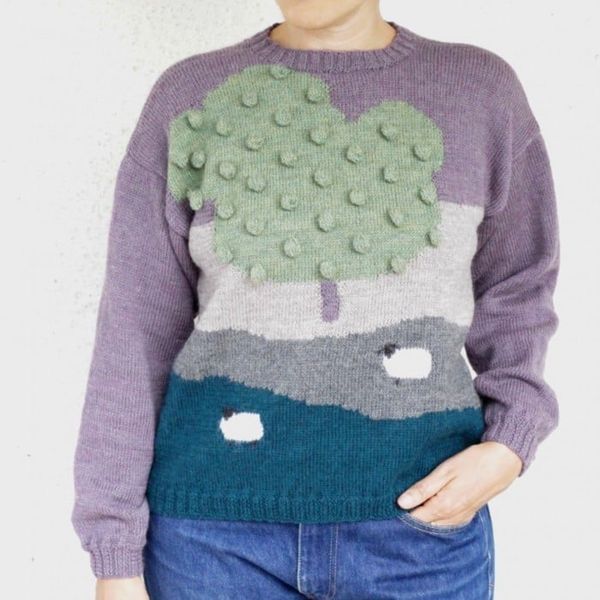 Hello amigurumi lovers and beautiful visitors, I wanted to share the free amigurumi patterns for you here. In my article I will share 1 pattern and how to make it for you. At the end of my article, I will share amigurumi patterns that can generate ideas for you.
MATERIALS
Highland Wool
1 skein of col. 15
1 skein of col. 07
1 skein of col. 09
1 skein of col. 04
5 skeins of col. 37
2 skeins of col. 23
Alpaca Blaze
1 skein of col. 01
Needle 3.5 mm (US 4), 4 mm (US 6)
Circular needles 3.5 mm (US 4)
Sewing needle

YARN QUALITY
Highland Wool, Hobbii
100 % Peruvian Highland Wool
50 g (1.8 oz) = 175 m (191 yds)
Alpaca Blaze, Hobbii
40 % Acrylic, 30 % Alpaca, 30 % Polyamide
25 g (0.9 oz) = 225 m (246 yds)

GAUGE
10 cm x 10 cm (4" x 4") = 27 sts x 36 rows
SIZE
S (M) L
MEASUREMENTS
Width: 47 (52) 57 cm / 18.5" (20.5") 22.4"
Length: 56 (56) 61 cm / 22" (22") 24"

PATTERN INFORMATION
The sweater is knitted on straight needles, consisting of separate pieces that are sewn together at the end.
INFO AND TIPS
Popcorn stitch: Increase 1 st to 7 sts, work 8 rows, in the 9th row work together first 3 sts, then next 4 sts, and pass the remaining stitch over the last stitch.
Rib stitch: All rib edges are made in double rib. Knit2, purl2.

FRONT
With needles 3.5 mm (US 4) and color 15, CO 130 (142) 154 sts. Work 12 rows in rib stitch, change to 4 mm (US 6) needles.
Rows 1-19 (1-19) 1-35: continue in stockinette stitch with color 15 according to the chart. The first row of the chart is from the right side, row 2 is from the wrong side.
Row 20 (20) 36 (wrong side): work 36 (42) 48 sts with color 15 and then start to make the sheep motif with double thread according to the chart.
Knit the front to the end according to the chart.
Start the neckline at the 160th (160th) 176th row on the chart (the chart is counted without the rib)

BACK
Work the back according to the chart as a mirror image of the front, omitting the sheeps and tree motifs.
Join color 04 line at tree height in any way you like.
Start the neckline at the 169th (1169th) 185th row height.

SLEEVE
Same for all three sizes
With needles 3.5 mm (US 4) and color 37, CO 54
Work 15 rows in rib stitch
In 16th row after every 2 sts increase 1 = total 81 sts
Then, in each 10th row increase 1 on each side x 6.
After that, increase in this way every 6th row x 16 = total 125 sts
Cast off.
Knit the second sleeve in the same way.

FINISHING
Sew the shoulders together.
On circular needles 3.5mm (US 4) pick up all stitches on the neckline.
Knit 12 rows with rib stitch.
Cast off. Make sure you do not cast off too tight.
Sew the remaining parts of the sweater together.
Weave in all ends.

Enjoy!