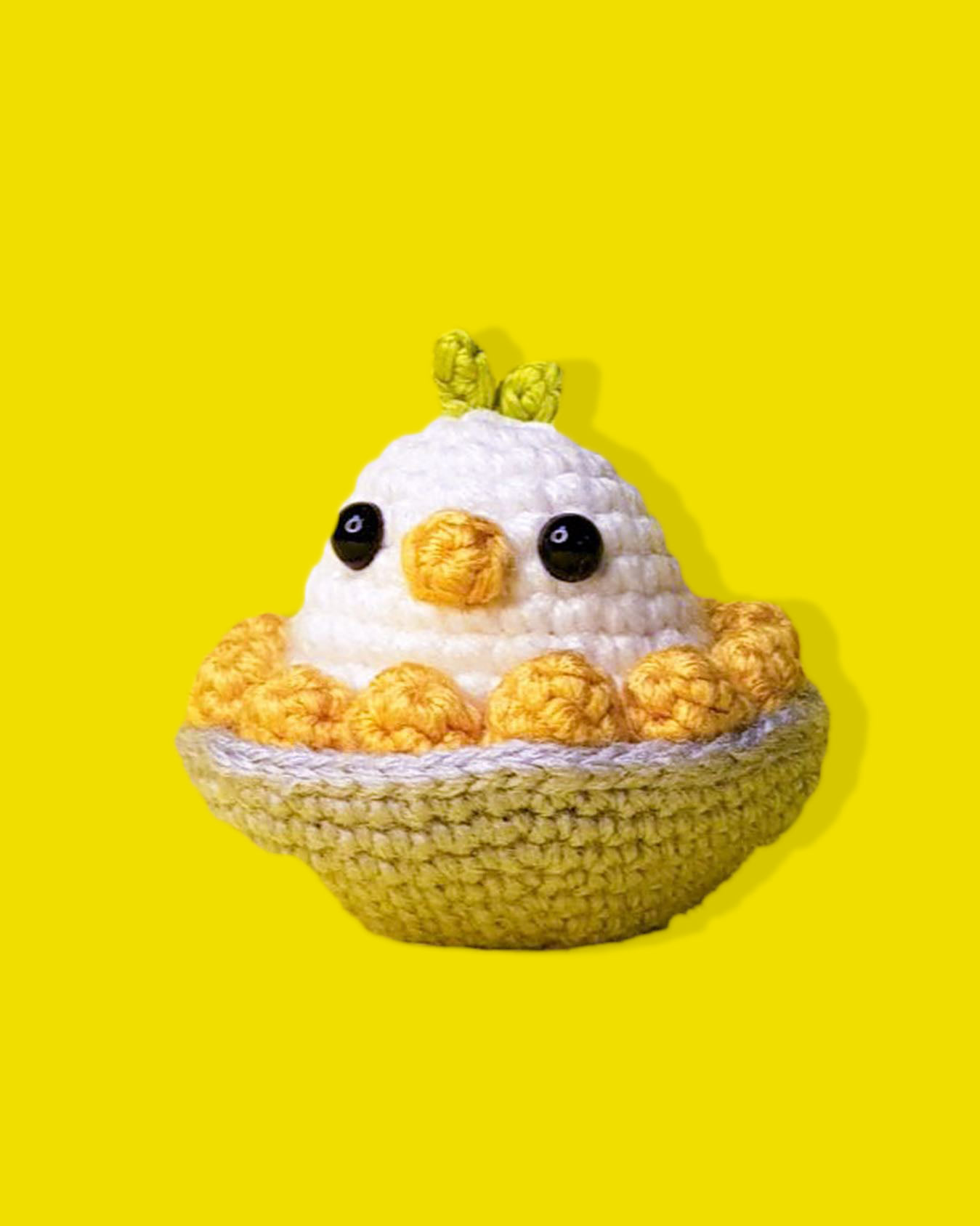 Easter Baby Bird Amigurumi Free Crochet Pattern
Hello amigurumi lovers and beautiful visitors, I wanted to share the free amigurumi patterns for you here. In my article I will share 1 pattern and how to make it for you. At the end of my article, I will share amigurumi patterns that can generate ideas for you.
Materials
Needle
Thread
Hook
Scissors
Abbreviations
MR: Amigurumi Magic ring
sc : Single Crochet
inc : Increase
dec : Decrease
tr : Triple Crochet/ Treble Crochet
st: Stitch
dc : Double Crochet
hdc: Half Double Crochet
slst : Slip Stitch
ch : Chain
..in : make increase into same stitch as many as the number which is given in front of "inc" abbreviation (exp; 3inc, 4inc..).
FLO : Crochet into front loops only
BLO : Crochet into back loops only
Egg
We stuff tightly in the process of crocheting.
Let's start with white:
1Rnd: 6sc in MR
2Rnd: 6inc (12)
3Rnd: (1sc,inc)*6 (18)
4Rnd: (2sc,inc)*6 (24)
5Rnd: 24sc
6Rnd: (3sc,inc)*6 (30)
7Rnd: (4sc,inc)*6 (36)
8Rnd: (5sc,inc)*6 (42)
9Rnd: 42sc
10Rnd: (6sc,inc)*6 (48)
11Rnd: (7sc,inc)*6 (54)
12Rnd: (8sc,inc)*6 (60)
13Rnd: 60sc
14Rnd: (9sc,inc)*6 (66)
15Rnd: (10sc,inc)*6 (72)
16Rnd: 72sc
Change the yarn to yellow:
17Rnd: BLO 72sc
18-24Rnd: 72sc (7rows)
Change the yarn to white:
25Rnd: 72sc
26Rnd: (10sc,dec)*6 (66)
27Rnd: 66sc
28Rnd: (9sc,dec)*6 (60)
29Rnd: 60sc
30Rnd: (8sc,dec)*6 (54)
31Rnd: 54sc
32Rnd: (7sc,dec)*6 (48)
33Rnd: 48sc
34Rnd: (6sc,dec)*6 (42)
35Rnd: (5sc,dec)*6 (36)
36Rnd: (4sc,dec)*6 (30)
37Rnd: (3sc,dec)*6 (24)
38Rnd: (2sc,dec)*6 (18)
39Rnd: (1sc,dec)*6 (12)
40Rnd: 6dec
Turn to turning chain 16 rows, we crochet the edge of the shell with white yarn:
(sc, hdc, 3dc in 1 loop, hdc, sc, slst)*12 , so that she doesn't flinch, you can carefully sew it.
Wings (2 parts)
crochet yellow:
1Rnd: 6sc in MR
2Rnd: (1sc,inc)*3 (9)
3Rnd: (2sc,inc)*3 (12)
4Rnd: 12sc
5Rnd: (3sc,inc)*3 (15)
6Rnd: (4sc,inc)*3 (18)
7Rnd: 18sc
We fold the part in half and crochet 9sc, fasten the yarn, cut it off, leaving the end for sewing. We sew symmetrically on the sides between 22 and 23 side by side.
Paws (2 parts)
crochet in brown:
7ch, with 2 loops 4slst, 5ch, 4slst, 5ch, 4slst, in 5 loop slst, 2slst on the remaining loops.
Flowers (3pcs)
1Rnd: 5sc in MR,slst
2Rnd:(in 1 loop: 2ch, 2dc, 2ch, slst)*5
Eyes are half-beads 8mm, glued them on a circle of felt 10mm.