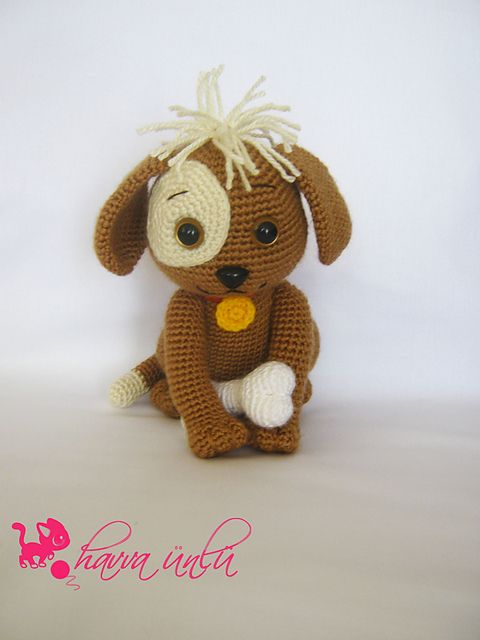 AMIGURUMI CROCHET DOG FREE PATTERN
Hello amigurumi lovers and beautiful visitors, I wanted to share the free amigurumi patterns for you here. In my article I will share 1 pattern and how to make it for you. At the end of my article, I will share amigurumi patterns that can generate ideas for you.
MATERIALS
Acrylic yam (250m/100g) of the follovving
colors: brown,cream color,white, yellovv, red
Hook: 2.5mm Polyester for staffing Tapestry needle 15 mm eyes 12 mm nose
Finished size is about 19 cm tali (if using similar yam).
TERMS USED
ch=chain
dc=double crochet
hdc=half double crochet
rnd= round
sc=single crochet
skp=skip
sp=space
sİ st=slip stitch
st(s) = stitch (es)
sc2tog = sc 2 together
tc=treble crochet
yo=yarn över
dtr=double treble
BLO: back loop only
FLO: front loop only
rep: repeat
() = repeat betvveen () number of times indicated
HEAD
brown
Round 1: make ch 2, 6sc into second chain from hook (6)
Round 2: 2sc in each st (12)
Round 3: (sc in next st, 2sc in next st) repeat 6 times (18)
Round 4: (sc in each of next 2 sts, 2sc in next st) rep 6 times (24)
Round 5: (sc in each of next 3 sts, 2sc in next st) rep 6 times (30)
Round 6: (sc in each of next 4 sts, 2sc in next st) rep 6 times (36)
Round 7: (sc in each of next 5 sts, 2sc in next st) rep 6 times (42)
Round 8: (sc in each of next 6 sts, 2sc in next st) rep 6 times (48)
Round 9: (sc in each of next 7 sts, 2sc in next st) rep 6 times (54)
Round 10: (sc in each of next 8 sts, 2sc in next st) rep 6 times (60) Rounds 11-13: in each st around (60)
Round 14: (sc in each of next 8 sts, sc2tog) rep 6 times (54) Round 15: in each st around (54)
Round 16: (İse, 2sc in next st) -12 times,30sc (66)
Rounds 17-22: in each st around (66) betvveen 14 -15. rows embed safety eyes Round 23: (sc in each of next 9 sts, sc2tog) rep 6 times (60) Round 24: (sc in each of next 8 sts, sc2tog) rep 6 times (54) Round 25: (sc in each of next 7 sts, sc2tog) rep 6 times (48) Round 26: (sc in each of next 6 sts, sc2tog) rep 6 times (42) Round 27: (sc in each of next 5 sts, sc2tog) rep 6 times (36) Round 28: (sc in each of next 4 sts, sc2tog) rep 6 times (30) Round 29: (sc in each of next 3 sts, sc2tog) rep 6 times (24) Round 30: (sc in each of next 2 sts, sc2tog) rep 6 times (18) Round 31: (sc in next st, sc2tog) rep 6 times (12)
Round 32: (sc2tog) rep 6 times (6)
EYE PATCH
cream color
Round 1: make ch 2, 6sc into second chain from hook (6) Round 2: 2sc in each st (12)
Round 3: (sc in next st, 2sc in next st) repeat 6 times (18)
Round 4: (sc in each of next 2 sts, 2sc in next st) rep 6 times (24)
Round 5: (sc in each of next 3 sts, 2sc in next st) rep 6 times (30)
Round 6: (sc in each of next 4 sts, 2sc in next st) rep 6 times (36)
Round 7: in each st around (36)
EARS
brown
Round 1: make ch 2, 6sc into second chain from hook (6)
Round 2: 2sc in each st (12)
Round 3: (sc in next st, 2sc in next st) repeat 6 times (18)
Round 4: (sc in each of next 2 sts, 2sc in next st) rep 6 times (24)
Round 5: (sc in each of next 3 sts, 2sc in next st) rep 6 times (30)
Rounds 6-10: in each st around (30)
Round 11: (sc in each of nekst 13 sts,sc2rog) rep 2 times (28)
Round 12: in each st around (28)
Round 13: (sc in each of nekst 12 sts,sc2rog) rep 2 times (26)
Round 14: (sc in each of nekst 11 sts,sc2rog) rep 2 times (24)
Round 15: (sc in each of nekst 10 sts,sc2rog) rep 2 times (22)
Round 16: (sc in each of nekst 9 sts,sc2rog) rep 2 times (20)
Round 17: in each st around (20)
Round 18: (sc in each of nekst 8 sts,sc2rog) rep 2 times (18)
Round 19: in each st around (18)
Round 20: (sc in each of nekst 7 sts,sc2rog) rep 2 times (16)
Round 21: in each st around (16)
Round 22: (sc in each of nekst 6 sts,sc2rog) rep 2 times (14)
Round 23: in each st around (14)
BODY
brovvn
Round 1: make ch 2, 6sc into second chain from hook (6)
Round 2: 2sc in each st (12)
Round 3: (sc in next st, 2sc in next st) repeat 6 times (18)
Round 4: (sc in each of next 2 sts, 2sc in next st) rep 6 times (24)
Round 5: (sc in each of next 3 sts, 2sc in next st) rep 6 times (30)
Round 6: (sc in each of next 4 sts, 2sc in next st) rep 6 times (36)
Round 7: (sc in each of next 5 sts, 2sc in next st) rep 6 times (42)
Round 8: (sc in each of next 6 sts, 2sc in next st) rep 6 times (48)
Round 9: (sc in each of next 7 sts, 2sc in next st) rep 6 times (54)
Rounds 10-16: in each st around (54)
Round 17: (sc in each of next 4 sts, sc2tog) rep 6 times,18sc (48)
Round 18: in each st around (48)
Round 19: (sc in each of next 3 sts, sc2tog) rep 6 times,18sc (42)
Round 20: in each st around (42)
Round 21: (sc in each of next 2 sts, sc2tog) rep 6 times,18sc (36)
Round 22-29: in each st around (36)
Round 30: (sc in each of next 4 sts, sc2tog) rep 6 times (30)
Round 31: in each st around (30)
Round 32: (sc in each of next 3 sts, sc2tog) rep 6 times(24)
Round 33:16sc turn
Round 34:14 sc finish of
REARLEGS
brown
Round 1: make ch 2, 6sc into second chain from hook (6)
Round 2: 2sc in each st (12)
Round 3: (sc in next st, 2sc in next st) repeat 6 times (18)
Round 4: (sc in each of next 2 sts, 2sc in next st) rep 6 times (24)
Round 5: (sc in each of next 3 sts, 2sc in next st) rep 6 times (30)
Round 6: (sc in each of next 4 sts, 2sc in next st) rep 6 times (36)
Rounds 7-9: in each st around (36)
REAR FEET
brovvn
Round 1: make ch 2, 6sc into second chain from hook (6)
Round 2: 2sc in each st (12)
Round 3: (sc in next st, 2sc in next st) repeat 6 times (18)
Round 4: (sc in each of next 2 sts, 2sc in next st) rep 6 times (24)
Round 5: (sc in each of next 10 sts, sc2tog) rep 2 times(22)
Round 6: in each st around (22)
Round 7: (sc in each of next 9 sts, sc2tog) rep 2 times (20)
Round 8: (sc in each of next 8 sts, sc2tog) rep 2 times (18)
Round 9: (sc in each of next 7 sts, sc2tog) rep 2 times (16)
Round 10: (sc in each of next 6 sts, sc2tog) rep 2 times (14)
Round 11: (sc in each of next 5 sts, sc2tog) rep 2 times(22)(12)
Round 12: (sc in each of next 4 sts, sc2tog) rep 2 times (10)
FRONTLEGS
brown
Round 1: make ch 2, 6sc into second chain from hook (6)
Round 2: 2sc in each st (12)
Round 3: (sc in next st, 2sc in next st) – 6 times (18)
Round 4: (sc in each of next 2 sts, 2sc in next st) – 6 times (24)
Rounds 5-6: in each st around (24)
Round 7 (sc in next st, sc2tog) – 5 times, sc in each of next 9 sts (19)
Round 8: (sc in next st, sc2tog) – 3times, sc in each of next 4 sts, sc2tog, sc in each of next 4 sts (15) Rounds 9-27: in each st around (15)
Round 28: (sc in each of next 3 sts, sc2tog) – 3 times (12)
Round 29: (sc in next st, sc2tog) – 4 times (8)
TAİL
crem color
Round 1: make ch 2, 6sc into second chain from hook (6)
Round 2: 2sc in each st (12)
Rounds 3-7: in each st around (12) brovvn
Rounds 8-30: in each st around (12)
BONE
white
5ch+lch
Round 1:3sc in 2nd ch from the hook, (İse in leh) – 3 times,
3sc in next eh, tum the work to continue along the opposite side of the beginning eh, (İse in leh) – 3 times (12)
Round 2: (2sc in each of next 3sc,3sc) araund (18)
Round 3: [(sc in next st, 2sc in next st) – 3 times, 3sc] around (24)
Rounds 4-6: in each st around (24)
Round 7: (sc in each of next 8 sts, sc2tog) rep 2 times (18)
Round 8: in each st around (18)
Round 9: (sc in next st, sc2tog) rep 6 times (12)
Rounds 10-18: in each st around (12)
Round 19: (sc in next st, 2sc in next st) repeat 6 times (18)
Round 20: in each st around (18)
Round 21: (sc in each of next 2 sts, 2sc in next st) rep 6 times (24)
Rounds 22-24: in each st around (24)
Round 25: [sc in each of next 3 sts,(sc in next st, sc2tog) – 3 times] around (18)
Round 26: [sc in each of next 3 sts,( sc2tog) – 3 times] around (12)
COLLAR
red
30 ch + leh
Round 1: sc in each of next 30 ch (30)
yellow
Round 1: make ch 2,6sc into second chain from hook (6)
Round 2: 2sc in each st (12)
More Amigurumi Dog İdeas