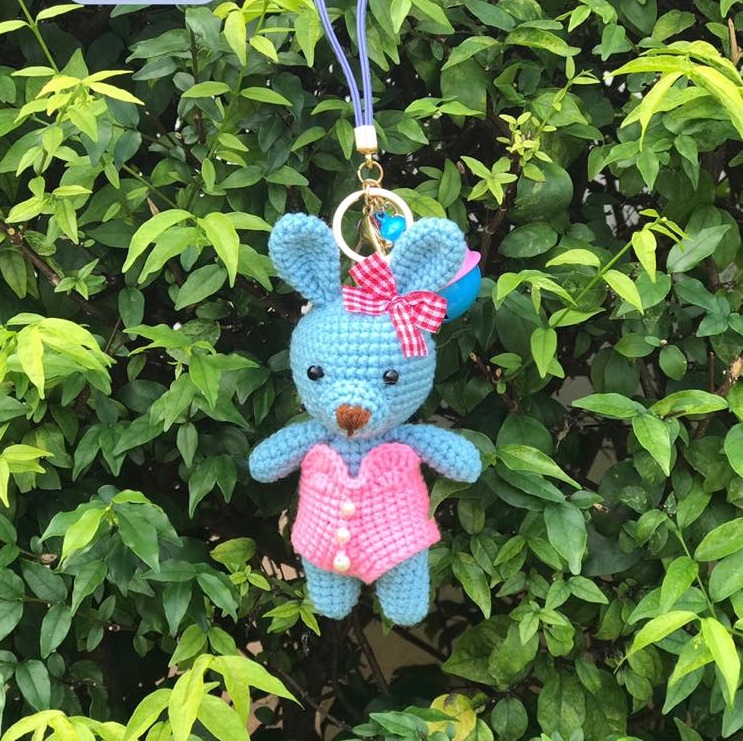 AMIGURUMI BUNNY KEYCHAIN WITHOUT DRESS FREE PATTERN
Hello amigurumi lovers and beautiful visitors, I wanted to share the free amigurumi patterns for you here. In my article I will share 1 pattern and how to make it for you. At the end of my article, I will share amigurumi patterns that can generate ideas for you.
If you enjoy making amigurumi, here I share this easy and free amigurumi pattern for you for free. Your kids will love these toys.
Foot (Make 2)
Start with blue color yarn
Rnd 1. 6sc in magic ring (6)
Rnd 2. 6inc (12)
Rnd 3–6. 12sc
If you finished the first leg, please cut the yarn. If you finished the second leg, don't cut the yarn.
We wil make the body on the legs.
Body
Make 2chain on the second leg and then 1 slip stitch on the first leg.
Rnd 7. Make 12 sc on the frist leg, 2sc on the chain, 12sc on the second leg, 2sc on the chain (28)
Rnd 8. 12sc, 2inc, 14sc (30)
Rnd 9–15. 30sc
Rnd 16. (3sc, 1dec)6 (24)
Rnd 17–18. 24sc
Rnd 19. (2sc, 1dec)6 (18)
Rnd 20–21. 18sc
Head
Start with blue color yarn
Rnd 1. 6sc in magic ring (6)
Rnd 2. 6inc (12)
Rnd 3. (1sc, 1inc)*6 (18)
Rnd 4. (2sc, 1inc)*6 (24)
Rnd 5. (3sc, 1inc)*6 (30)
Rnd 6. (4sc, 1inc)*6 (36)
Rnd 7. (5sc, 1inc)*6 (42)
Rnd 8–13. 42sc
Rnd 14. (5sc, 1dec)*6 (36)
Rnd 15. (4sc, 1dec)*6 (30)
Rnd 16. (3sc, 1dec)*6 (24)
Rnd 17. (2sc, 1dec)*6 (18)
Rnd 18. 18sc
Cut the yarn
Mouth
Start with blue color yarn
Rnd 1. 5sc in magic ring (5)
Rnd 2. 5inc (10)
Rnd 3. (1sc, 1inc)*5 (15)
Rnd 4. 15sc
Ears (Make 2)
Start with blue color yarn
Rnd 1. 5sc in magic ring (5)
Rnd 2. 5inc (10)
Rnd 3. (1sc, 1inc)*5 (15)
Rnd 4–6. 15sc
Rnd 7. (3sc, 1dec)*3 (12)
Rnd 8–16. 12sc
Hands (Make 2)
Start with blue color yarn
Rnd 1. 5sc in magic ring (5)
Rnd 2. 5inc (10)
Rnd 3–7. 10sc
Rnd 8. 4sc, 3dec (7)
Rnd 9– 10. 7
More Amigurumi Keychain Ideas: