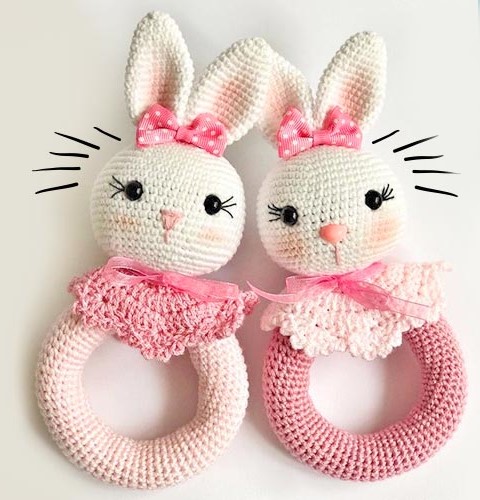 Amigurumi Rabbit Rattle Crochet Pattern
Hello amigurumi lovers and beautiful visitors, I wanted to share the free amigurumi patterns for you here. In my article I will share 1 pattern and how to make it for you. At the end of my article, I will share amigurumi patterns that can generate ideas for you.
Necessary materials
9mm Screw Eye
2.5mm Crochet
• Two white and pink cotton threads
• Rattle Ball
Black Etamine Floss for processing Eyebrows and Eyelashes
Pink IP for processing a nose
Bead Fiber
Head
1st 6sc into Mr
2.6inc (12sc)
3.1sc-1inc (18sc)
4.2sc-1inc (24sc)
5.3sc-1inc (30sc)
6.4sc-1inc (36sc)
7.5sc-1inc (42sc)
8. 6sc-1inc (48sc)
9. 7sc-1inc (54sc)
10.-21. 12 rows (54sc)
22. 7sc-1dec (48sc)
23.6sc-1dec (44sc)
24.5sc-1dec (36sc)
25.4sc-1dec (30sc)
26.3sc-1dec (24sc)
27.2sc-1dec (18sc) 1sc-1dec (12sc)
28.6dec (6sc)
We wear the eyes between the 15th and 16th rows, 8 loops apart. We place the rattle in the head section between the fibers.
Ear
1.6sc into MR
2.1sc-1inc (9sc)
3.2sc-1inc (12sc)
4.3sc-1inc (15sc)
5.4sc-1inc (18sc)
6.5sc-1inc (21sc)
7.-12. 6 rows (21sc)
13.5sc-1dec (15sc)
14. 4sc-1dec (12sc)
15.1 row (12sc)
Ring of Rattle
1.5sc into MR
2.5inc (10sc)
3.1sc-1inc (15sc)
4. -69. 70 rows (15sc)
Fill fiber in every 5 rows. When the knitting is done, sew the two ends of the ring together.
Ornament Section
1. 12 double handrails inside the
MR
2. 2 handrails for each loop (24 DC)
3. 2 handrails in one loop – 2 handrails in 1 loop (36 DC)
4. 1 2-handrails per two stitches – 2 2-handrails per 1 loop (48DC)
Edge Section Eyelash Ornament
We will skip one loop and make 5 double handrails in the second loop. But we pull 3 chains at the head of each handrail and loop through the first chain. Thus, eyelashes are formed. Then we skip one loop again and fix this hemstitch on the 2nd loop.
Feel free to tag me (@freeamigurumii) in your photos on Instagram or Facebook if you'd like!
All Finished.